Jackson Center, PA, October 29, 2020 – Halberd Corporation (OTC PINK: "HALB") today provided insight concerning its strategic plans beyond developing unique antibodies which form the basis of their current all-out efforts to generate products and processes to prevent, diagnose and treat Covid-19.  These strategic plans are designed to benefit people well after Covid-19 is no longer an issue.
William A. Hartman, Halberd Corporation Chairman, President & CEO, stated, "Currently, we are dedicating our maximum efforts to combat the Coronavirus, including a prophylactic nasal spray which could be an exciting and effective alternative to a vaccine.  However, we realize that Covid-19 will not be with us forever.  As an effective organization, we must look at the long term health and prospects of the company for the benefit of people suffering from treatable diseases and our stockholders.  To the extended Halberd team, that means developing our patented extracorporeal process to produce treatments to address additional diseases and afflictions.  We intend to attempt to develop our extracorporeal technology in the fight against blood sepsis in the shorter term.  With adequate funding, there is an opportunity to address effective treatments for PTSD, Alzheimer's Disease, heart attack and stroke in the longer term.  Significantly, our successfully generated new class of anti-Spike protein monoclonal antibodies should be easily adaptable to other viruses."
Dr. Patricio Reyes, Halberd Corporation Chief Technical Officer, explained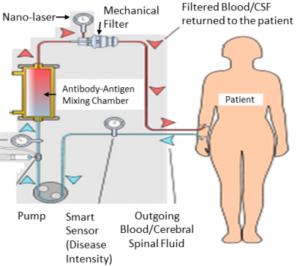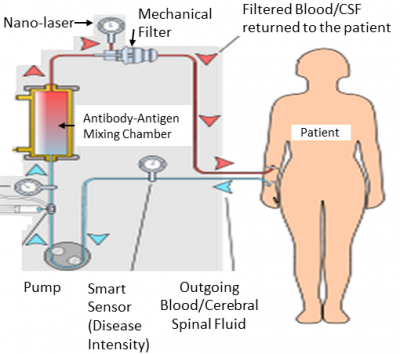 , "Our patented, multifaceted and adaptable extracorporeal process allows us to treat a patient's bodily fluid — blood or cerebral spinal fluid (CSF) — outside of the patient in a process similar to kidney dialysis.  The fluid is removed from the body, and passes through an antigen-antibody cartridge which effectively removes the target disease antigen.  The cleansed bodily fluid is then returned to the patient, thereby reducing or eliminating dangerous side effects associated with drugs administered internally.  This extracorporeal process is designed to be conducted on a continuous basis over a period of several minutes to a few hours, depending on the disease, and its concentration.  This process can be administered in an outpatient setting in a hospital or clinic."
Dr. Mitchell S. Felder, a Halberd consultant and inventor of the patented extracorporeal methodology, stated, "The basis of the treatment against blood sepsis, Alzheimer's Disease, Heart Attack and Stroke, among other diseases, is The Felder Doctrine – 'Physically remove the pathophysiologic basis of the disease.'"  The Felder extracorporeal intellectual property is premised upon this doctrine.
"In the case of Alzheimer's Disease," Felder continued, "this would entail removing Tau and inflammatory cytokines – which have been shown to be a main pathologic cause of neurofibrillary tangles, and a major physiologic factor in Alzheimer's Disease.
In the case of Heart Attacks and Stroke, the extracorporeal removal of cholesterol and inflammatory cytokines is a main cause for the pathological and physiological basis of the disease."
Hartman added, "Halberd's strategy is to augment our issued patents by filing provisional patents to establish our earliest intellectual property protected (priority) date with the US Patent Office and to allow us to claim 'patent pending' status.  This protects our technology from the initial filing date all the way to full patent issuance.  This strategy is evidenced by our existing four provisional patents which have been filed this year, and we will be filing a fifth provisional patent application in the next several weeks.  However, as we await the issuance of full patent protection, we will continue to diligently prosecute these initiatives."
Hartman finished by stating, "Halberd Corporation develops real technology solutions for real health problems.  Our policy is to communicate openly with the public in a timely manner.  If readers would like to be added to our email subscriber list, visit our website, www.halberdcorporation, and submit the Contact Us form."
The details of the Halberd-ASU research contract can be viewed here.
For more information please contact:
William A. Hartman
w.hartman@halberdcorporation.com
support@halberdcorporation.com
www.halberdcorporation.com
P. O. Box 25
Jackson Center, PA 16133
Twitter:@HalberdC
About Halberd Corporation.
Halberd Corporation. (OTC-PINK:HALB), is a publicly traded company on the OTC Market, and is in full compliance with OTC Market reporting requirements.  Halberd's Articles of Incorporation prohibit the company from issuance of convertible debt which would result in dilution. See the company's Articles of Incorporation here.  The number of outstanding shares remains at 317,721,539.
The company holds the exclusive rights to the COVID-19 extracorporeal treatment technology provisional patent applications: "Method for Treating and Curing Covid-19 Infection;" "Method for Treating COVID-19 Inflammatory Cytokine Storm for the Reduction of Morbidity and Mortality in COVID-19 Patients;" "Method for Treating and Curing COVID-19 Infection by Utilizing a Laser to Eradicate the Virus", and, "Nasal Spray To Prevent The Transmission Of Covid-19 Between Humans."  Halberd also holds the exclusive rights to the underlying granted U.S. Patent 9,216,386 and U.S. Patent 8,758,287.
Safe Harbor Notice
Certain statements contained herein are "forward-looking statements" (as defined in the Private Securities Litigation Reform Act of 1995). The Companies caution that statements, and assumptions made in this news release constitute forward-looking statements and makes no guarantee of future performance.  Forward-looking statements are based on estimates and opinions of management at the time statements are made.  These statements may address issues that involve significant risks, uncertainties, estimates made by management.  Actual results could differ materially from current projections or implied results. The Companies undertake no obligation to revise these statements following the date of this news release.
Investor caution/added risk for investors in companies claiming involvement in COVID-19 initiatives –
On April 8, 2020, SEC Chairman Jay Clayton and William Hinman, the Director of the Division of Corporation Finance, issued a joint public statement on the importance of disclosure during the COVID-19 crisis.
The SEC and Self-Regulatory Organizations are targeting public companies that claim to have products, treatment or other strategies with regard to COVID-19.
The ultimate impact of the COVID-19 pandemic on the Company's operations is unknown and will depend on future developments, which are highly uncertain and cannot be predicted with confidence, including the duration of the COVID-19 outbreak. Additionally, new information may emerge concerning the severity of the COVID-19 pandemic, and any additional preventative and protective actions that governments, or the Company, may direct, which may result in an extended period of continued business disruption, reduced customer traffic and reduced operations. Any resulting financial impact cannot be reasonably estimated at this time.
We further caution investors that our primary focus and goal is to battle this pandemic for the good of the world. As such, it is possible that we may find it necessary to make disclosures which are consistent with that goal, but which may be adverse to the pecuniary interests of the Company and of its shareholders.